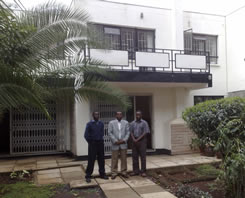 The firm was established in 1989, but commenced full operations in 1993 when Architect Rukenya Gichuki then a Group Leader / Superintending Architect in the Ministry of Public Works left the public service to concentrate on private practice.
In 1995, the firm was entered in the Ministry of Works Register of Consultants enabling expansion of its mandate to include offering consultancy services to the Central Government, Local Government, State Corporations and other public institutions. The firm is also registered as a consulting firm by the Board of Registration of Architects and Quantity Surveyors (BORAQS), Kenya.
The scope of consultancy services offered by the firm includes:
Architectural Design and Planning
Project Development Management
Construction Contract Management and Supervision of Construction Works
Environmental Planning and Management
Environmental Impact Assessment and Audit
Projects undertaken by the firm are appraised by the Principal Architect and Project Architects, always ensuring design quality and efficiency, cost controls and planned contract management for timely delivery of projects.
Our project portfolio includes assignments for the Central Government, state corporations, non Governmental organizations such as the Netherlands Leprosy Relief Association, Education and Religious Institutions, Cooperatives, and a big number of residential and commercial buildings for developers drawn from the private sector.
The firmís personnel reflect a rich mix of experience and youthful dynamism, evidenced by the high concentration of intellectual and academic resources in diverse and relevant sectors of the built environment. The firmís capacity is not limited to its core staff; and has the infrastructure and capacity to assemble project teams involving specialized personnel not found within the firm depending on the special requirements of the commission.